Even if you perform all the necessary precautions and measures to keep your home clean, pests can still find a way to enter your home and bother you and the entire household. Pests are not just bothersome but they can also create a huge embarrassment especially when visitors and guests are around. What's more, pests can cause myriads of illnesses and diseases. Because it is beyond a homeowner's control to keep these creatures away, most homeowners just give up thinking that all hope is lost and they will never have a pest-free home. Fortunately, there are pest control companies that provide pest control, pest inspection, and pest removal services that are not just effective, but also affordable.
CALL (630) 246-2002 TODAY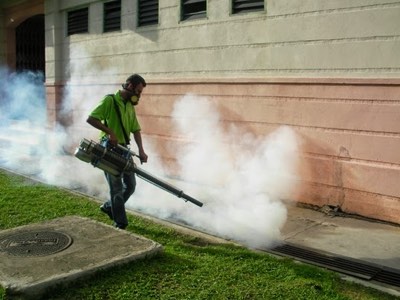 FUMIGATION
For the guaranteed, total elimination of an invasive bug problem in your home, you're going to want the full fumigation service. It's the only way to be sure that any cockroaches, termites, or bed bugs are eradicated.
Learn More
TERMITE CONTROL
Termites eat at the wood of your home, which causes problems not only with your home's structure, but also may endanger you and your family. So if you suspect termites in your house, call Father and Son immediately.
Learn More
BED BUG EXTERMINATION
Modern times have actually seen a rise in the amount of bedbug cases over the years. This is because airline travel has made it possible for them to hitch a ride in your briefcase and to your bedpost.
Learn More
CALL (630) 246-2002 TODAY
Exterminator Aurora, IL
There are myriads of pest control methods that can totally eliminate pest infestations. Pests also come in lots of types and sizes and it will be impossible for homeowners to control them all on their own. Moreover, a homeowner can't manage pest infestations as good as pest removal professionals because they have the equipment and chemicals necessary in removing them.
For the cockroaches that creep in your living room, professionals will perform organic pest control procedures to ensure no cockroach allergen is spread within your home. Father & Son Pest Control employs organic pest control methods because toxic chemicals that are intended to kill an entire pest population can also harm your family, especially kids that are below the age of five. Cockroaches survive basically in any nook and cranny and they live in the dirtiest environment which means they carry salmonella and E coli. When they move around, they live a trail of bacteria, making your home a dangerous place to live in. This is why as soon as you see roaches in your property, have professionals perform a thorough pest inspection.
As for termites and bed bugs, they are also the types of pests that can be extremely hard to detect and get rid of completely. There are difficult to access as well because they are good at hiding. If you try to do your own pest control methods, you will still be left with their eggs. In just a matter of days, you will experience a brand new infestation and this can certainly dishearten any homeowner. Luckily, an organic pest control method from Father & Son Pest Control can take care of the situation for you.

Benefits of Hiring the Best Pest Control Company in the Region
Expertise - Father & Son Pest Control has years of experience working and handling all types of pests. All of their exterminators have a background in entomology and biology which means there is not a single pest that they have not seen and eliminated.
Training - Father & Son Pest Control is committed to providing the best services which is why you will be assisted by professionals that have gone through rigorous training and education.
Investment - Of course, you are hiring a company to ensure that your family and property are safe from these little yet dangerous creatures. Father & Son Pest Control understands that so they do all that they can to provide you with the most effective and safest organic pest control methods.
FIND US:
Father & Son Pest Control Aurora
274 E Indian Trail
Aurora, IL
---
Contact Us:
Phone: (630) 246-2002